Year 1
We had driven down to my Mom's house one day in 2019. She took me to her dimly lit, breezy garage and guided me to a box along the far wall. "Look inside!", she said. The box was full of tiny kittens. Why the neighbor's cat had chosen her garage was a point of frustration, nevertheless, Mom enjoyed watching the kittens grow and play throughout the summer, feeding them from her deck every morning and evening.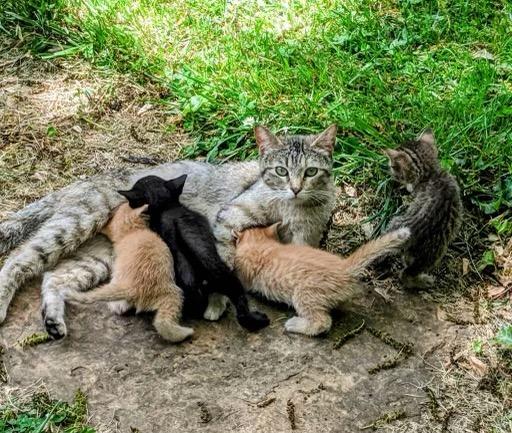 Pete and his siblings spent their first summer learning to pounce, stalk, and feast:
Up to this point, I had only watched from a distance. Mom occasionally shared amusing cat pics, and our toddler learned to "hold" cats at Grandma's house.
Year 2
At wits' end, Mom planned to re-home the full-grown cats.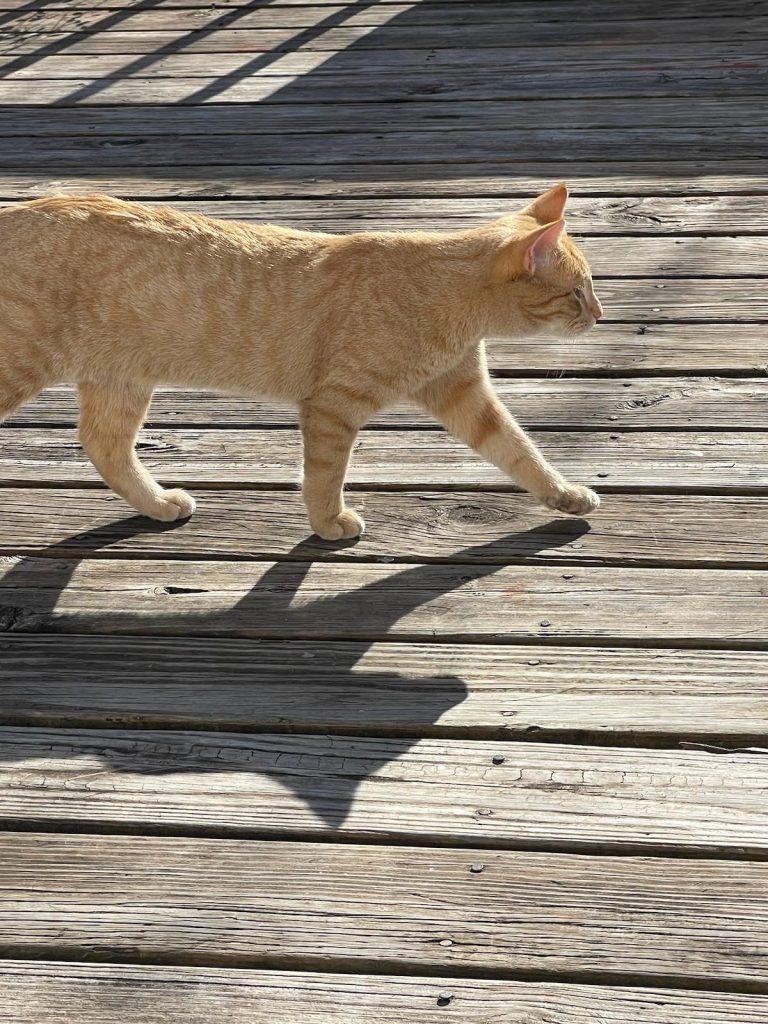 As Emily remembers:
. . . Pete (and Penelope) was a feral cat we adopted from my mother-in-law, who unintentionally ended up the caretaker of a cat colony thanks to an irresponsible neighbor.

We "hired" Pete and Penelope to address the mice problem at this house right before the extensive exterior remodel (and incidentally COVID). When adopting a feral cat you keep them in a cage for 3 weeks before releasing. My MIL misunderstood our housing plan and released both cats in the old storage room under the sunroom. Pete and Penelope offered instant entertainment as we tried to care for them and recatch them! After release day, we weren't sure they were coming back.

One evening a week later, a very scared and vocal Pete showed up, Penelope never came back. It took months for Pete to warm up to people (but winter proved a good motivator). . . .
Gaining Pete's trust took time. Jarred by the unpleasant move and neutering experience, he spent several weeks in the forest after release, secretly hopping back in through the storage room window for cat food.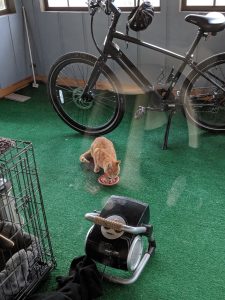 Pete remained feral through the summer. When construction crews demolished the storage room, I moved his food/water dishes to the front porch. He caught on quickly.
By fall, Pete had befriended neighbors and began adopting me as his human friend, curiously following me around and biting at my shoes.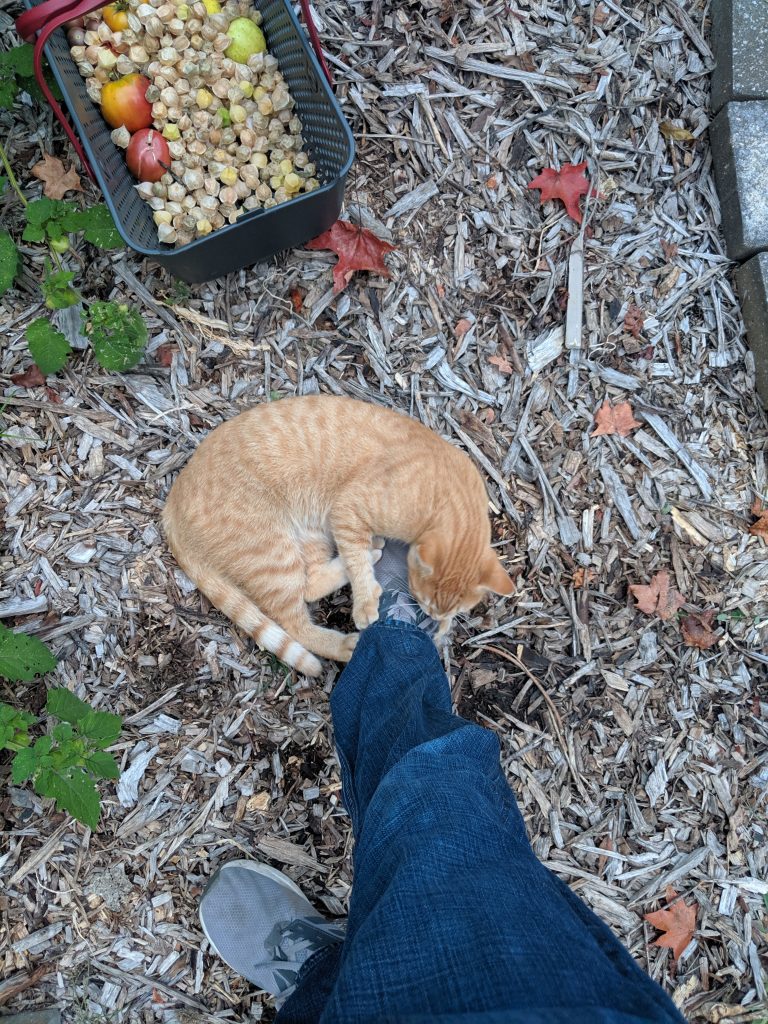 As temperates dropped, I moved his food inside the front door for his evening meals.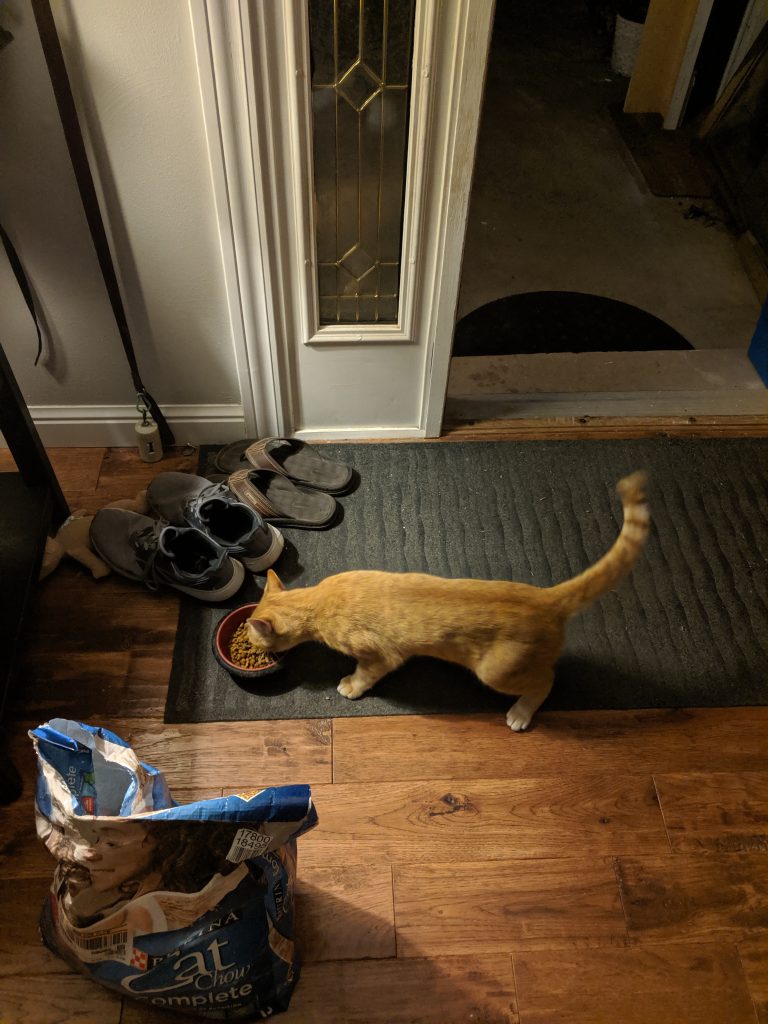 Pete decided that being indoors was not so bad once winter arrived. He found warmth in our laps and furniture, and took pleasure biting Emily's feet at 2am for months!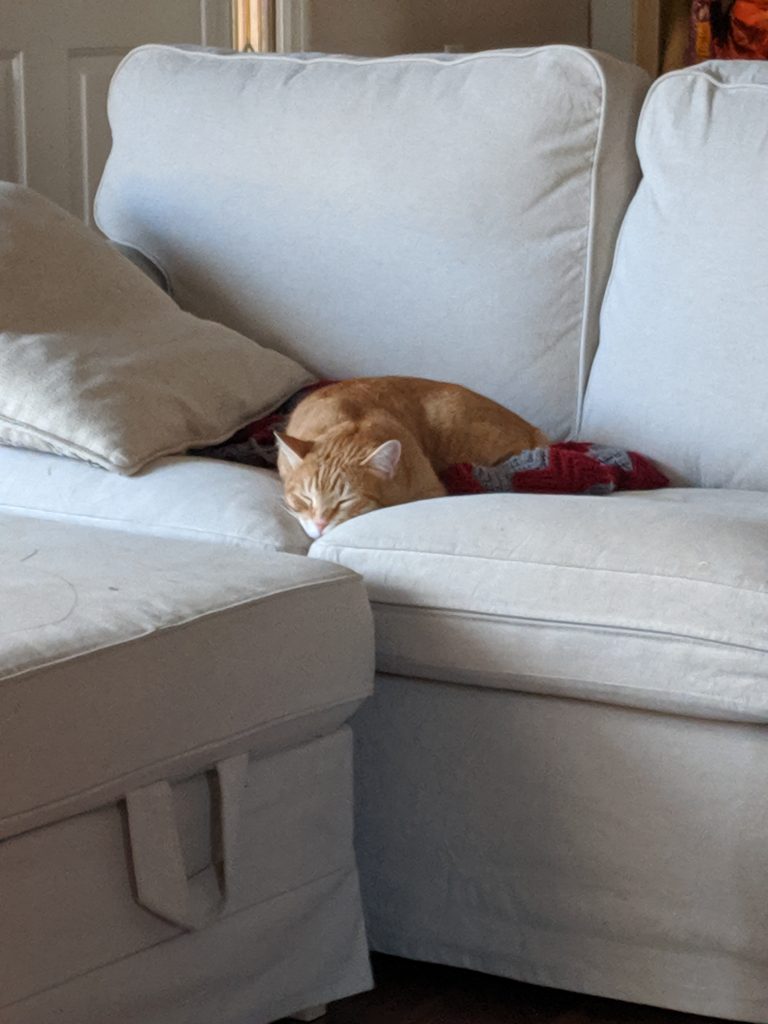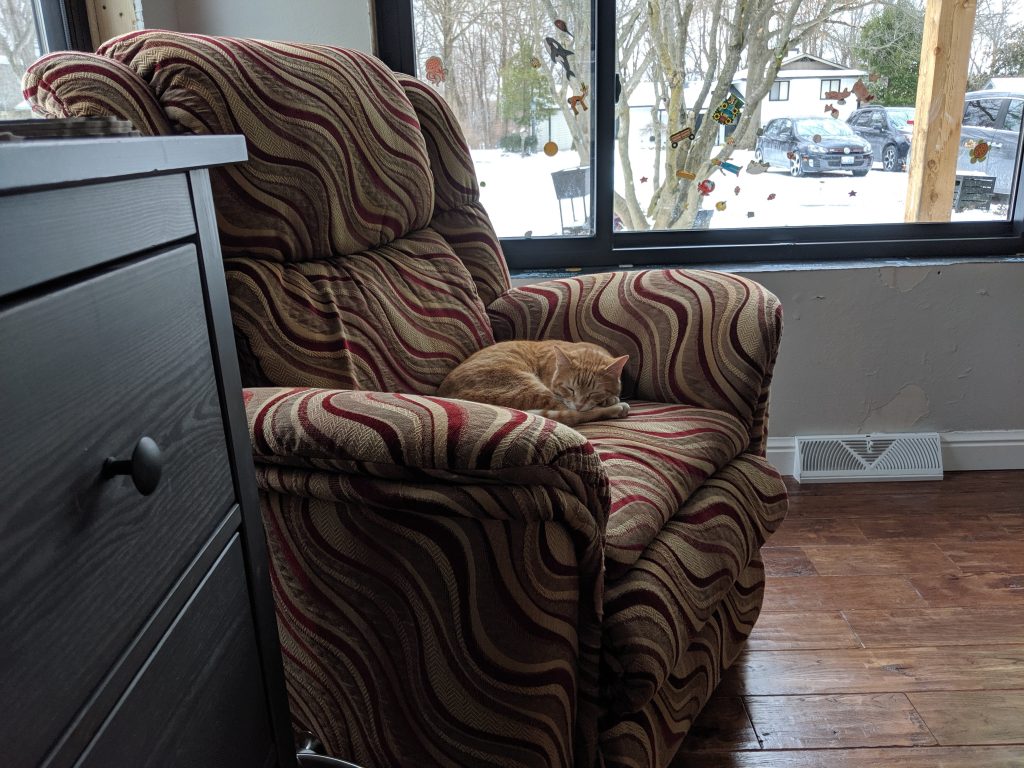 Year 3
Spring arrived again and Pete demonstrated he was a member of the family, often joining us for walks while meowing loudly from a distance. Neighbors asked, "Is that your cat?!"
Pete revealed his refined hunting skills, bringing us prey several times each week. Not just birds and mice, but snakes, rabbits, and squirrels.
Pete and I became close throughout the summer. Together we enjoyed walks to the lake and long hikes through the woods. He often relaxed on my lap, sometimes licking my beard or hands.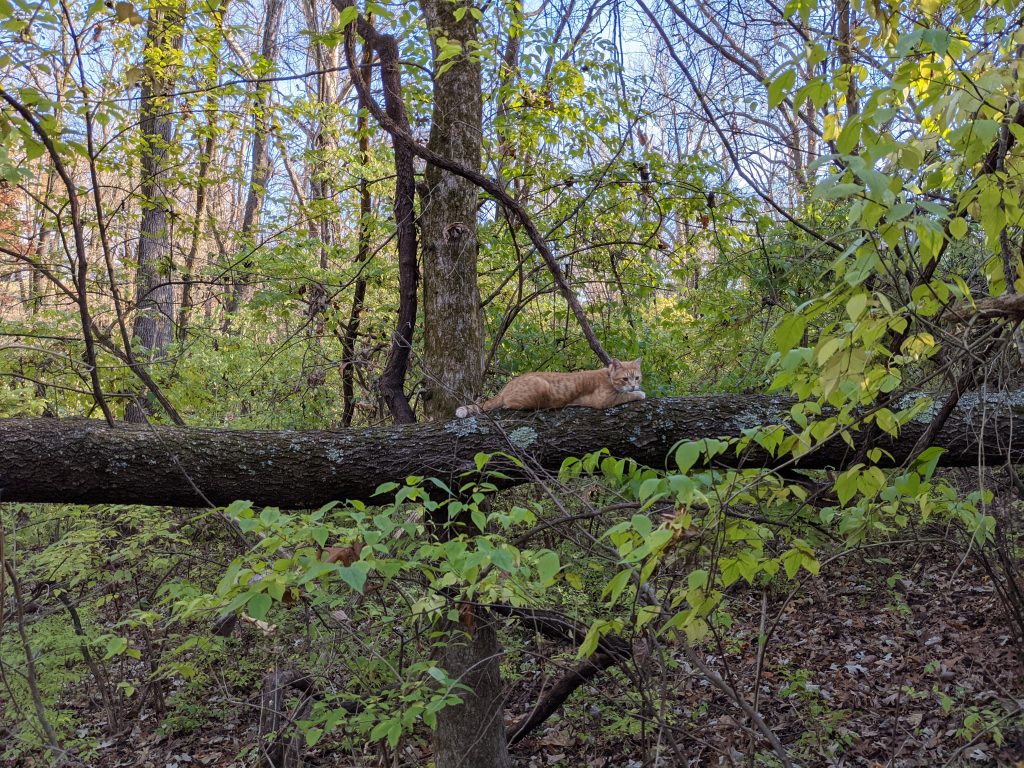 Pete often darted outside on warm summer nights. Or perhaps he bit Emily's feet at 2am for a chance to go hunting. I worried about coyotes howling in the distance; Pete had the sense to hurry home for refuge on the deck. Each morning he'd yawn, arch his back, and stroll inside for breakfast.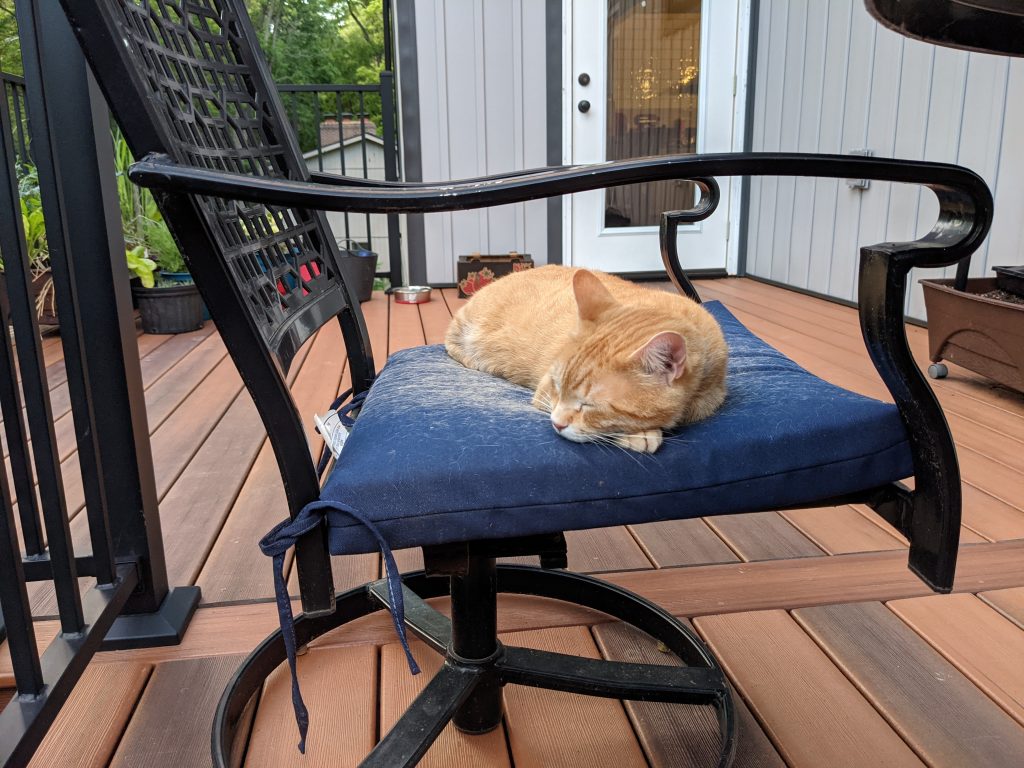 Pete immediately accepted baby Archie. For most evenings of the year, both napped in my lap. He did not mind when Archie grabbed his fur or ears; he purred and enjoyed the company.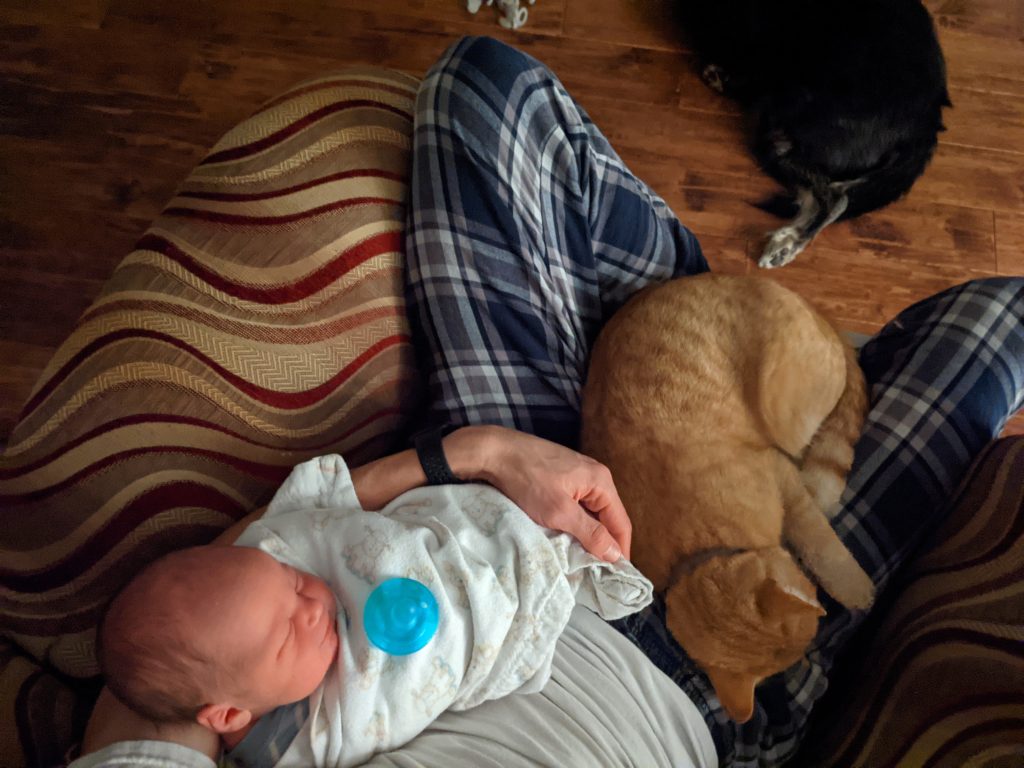 Pete cursed winter, as his hunting season came to an end.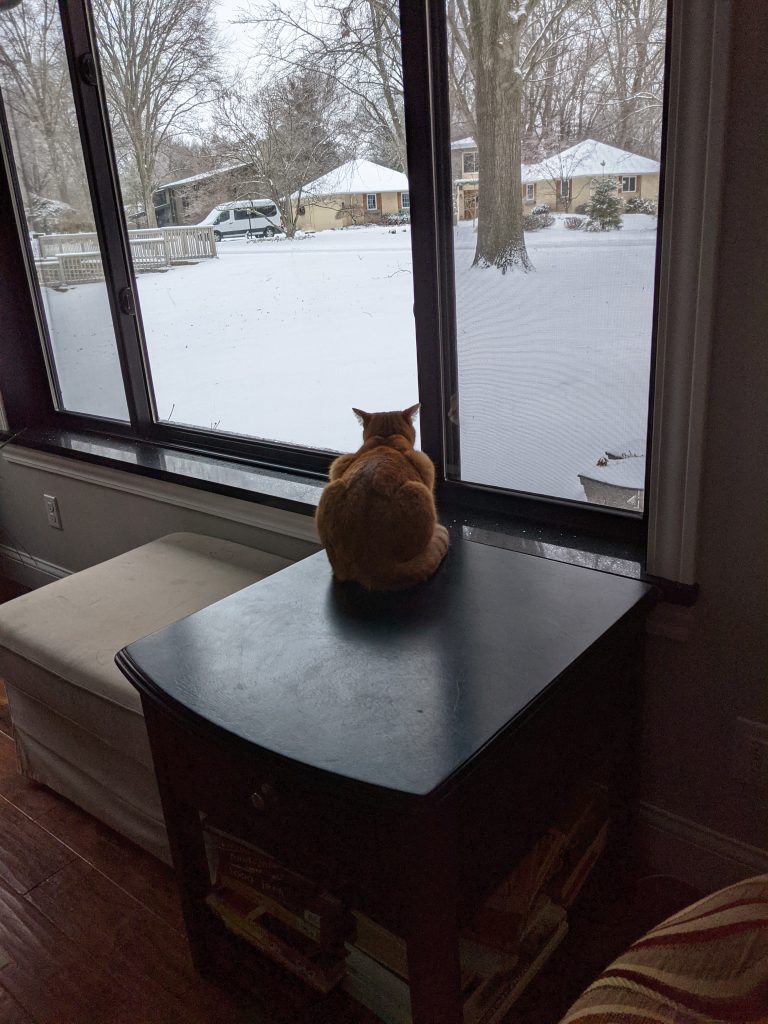 Year 4
Our family caught a string of colds well into February. Pete began struggling around this time–he had lost his appetite and was staying indoors despite the season change, so I took him to the vet. He had a slight fever, had lost 2 lbs, and was prescribed amoxicillin.
Two weeks went by without improvement. We went to another vet. Pete had lost another pound. The vet was concerned, as Pete still had a fever, and imaging revealed fluid in the abdomen and an enlarged spleen. She had no answers. Our family had just recovered from strep and administering amoxicillin had been no easy task, so he received a shot of antibiotics and a prescription for pain.
Pete remained indoors throughout March and April, only hobbling outside for minutes at a time to go potty. He developed congestion and sneezing and had lost more weight. We returned to the vet again–more antibiotics. No answers.
Last weekend Pete walked outside and settled in the mulch. I thought he was pulling through, and took his picture. He must have known his days were numbered.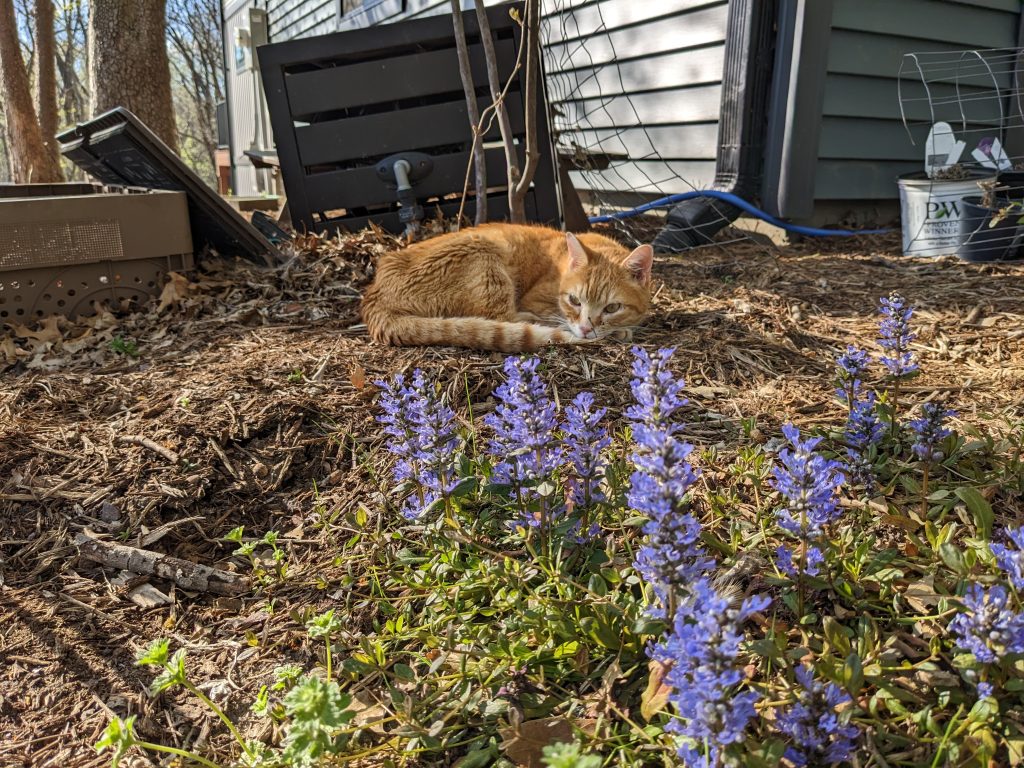 Pete followed me outside after work on Friday, took a stroll around the house, and came back inside. He collapsed in the hallway an hour later. Still breathing, I lifted his limp body and rushed him to the emergency vet, but it was his time.
I held Pete as he passed, unable to hold back tears. I lack words to adequately describe the hole in my heart for this wonderful being. Pete brought comfort, curiosity, adventure, and love to our lives. I'm left asking, "Why?"