I've built three Project399 SuperG+s, and prefer flying them over my other quads. Here's what I've learned in the past year with respect to tuning.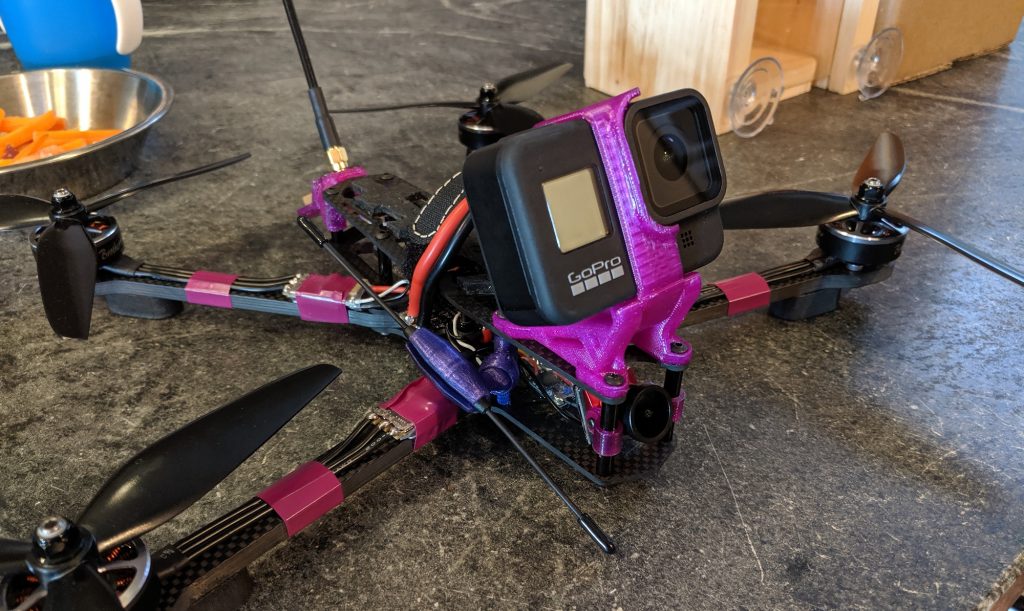 Some say the Project SuperG+ flies well with default PIDs. That was a reasonable conclusion under Betaflight 3.5.7, if you ignored wobbles in windy conditions. Betaflight 4.0 flew terribly with default values, so I stuck with 3.5.7 until v4.1 came along with RPM filtering (thanks, @joelucid!). Betaflight is targeted towards 5″ frames, and needs to be tuned for larger builds.
Partly due to complacency with almost smooth flights, and mainly time constraints, I flew BF4.1 for months with a less than stellar tune. You can see overshoot and instability in the PID response even during a short flight with little throttle input: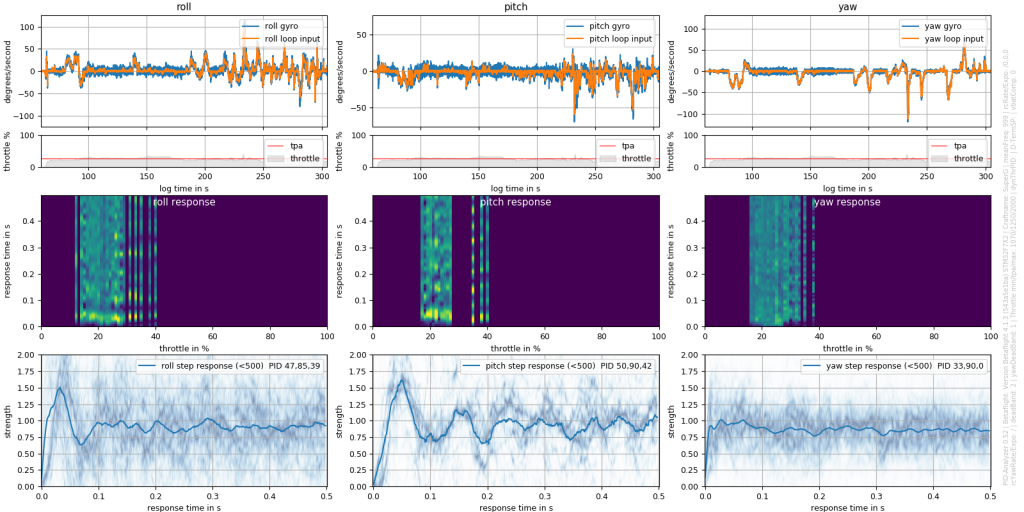 Betaflight 4.2
Upgrading to BF4.2 this week, I followed UAVTech's 7″ tuning guide and was instantly impressed. My 7″ SuperG+s finally feel locked in and smooth!
PID response has improved tremendously. This flight was over 5 minutes, with power loops, flips, rolls, and yawspins that should have induced propwash (what propwash?!). It's an awesome starting point: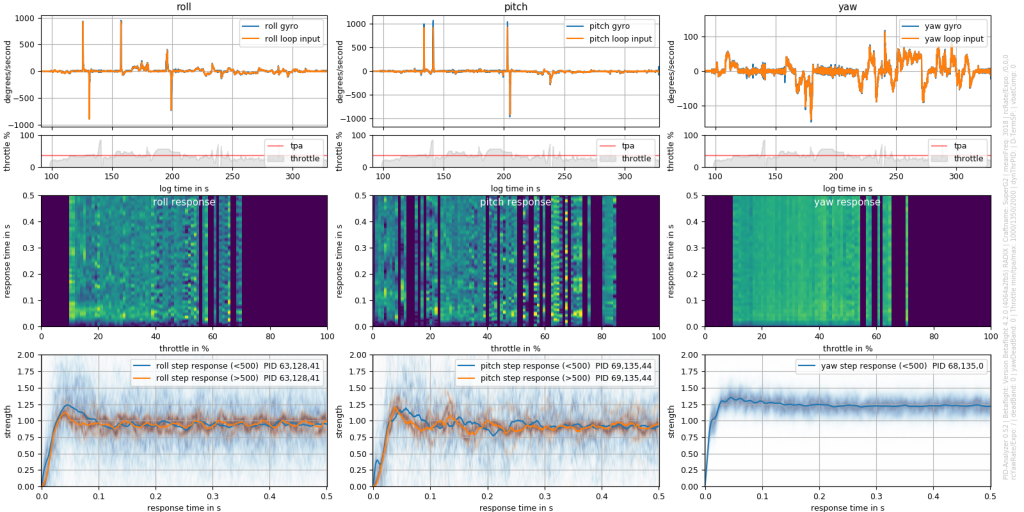 While tuning is a work in progress and build dependent, the starting parameters below work well on both of my current SuperG+s:
Flight Controllers + ESCs:
Matek F722SE + 4x Spedix ES30
BrainFPV Radix + Hobbywing 4-in-1 60A
Motors: Brotherhobby Avenger 2806.5:
One running 1700kV, and another running 1300kV
FPV Antenna: TrueRC AXII Long
Props: HQProp DP 7X3.5X3 V1S
Batteries: Tattu 5S 1300mAh and RDQ 5S 1800mAh
Here's what I did:
RPM Filtering, DSHOT300
Apply BF4.2 "Cinematic" Tuning via command line
Adjust Gyro and PIDs as below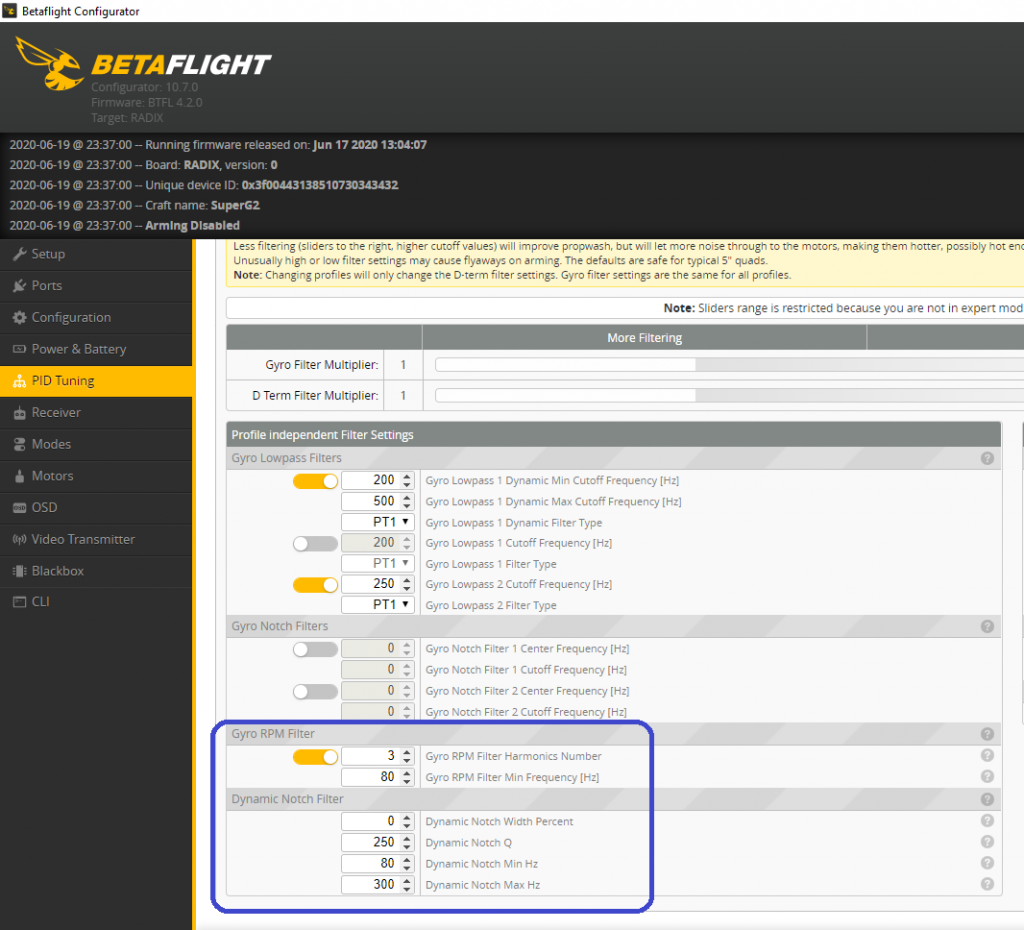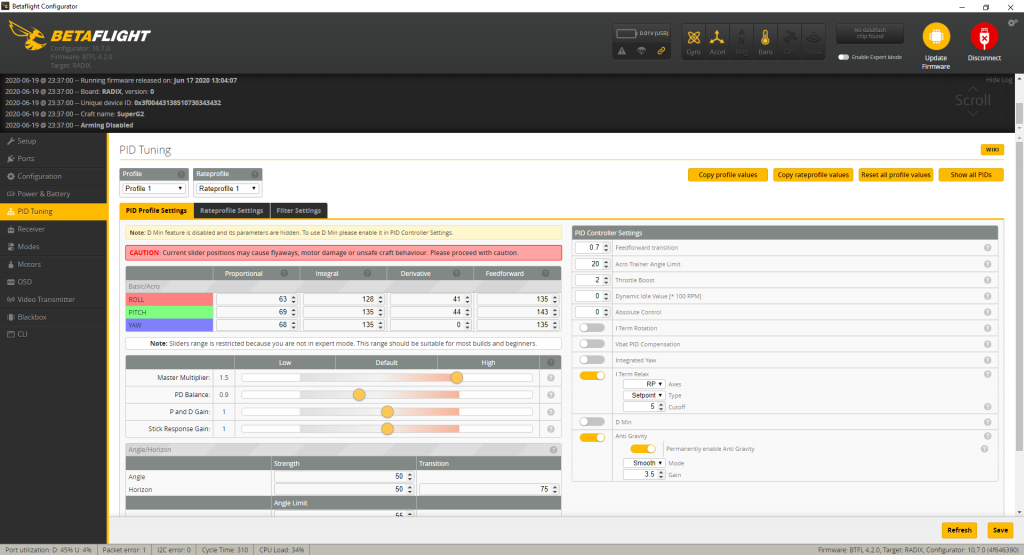 Hope that helps someone get started!